Stevie "G"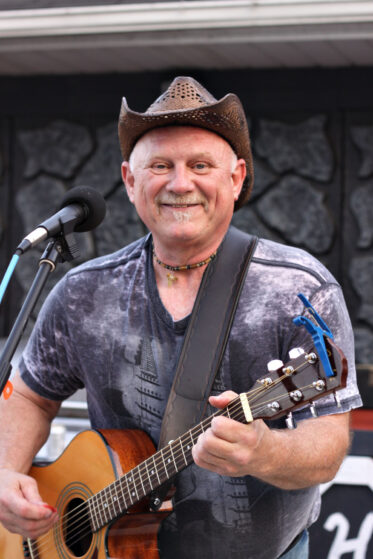 Stevie "G" grew up in rural Marshall County IN during the 1960's and 70's. Outside of school, he spent his days working for local farmers and bagged groceries at the local market. At age 14 he purchased his first guitar and took lessons studying classical guitar for over 2 years. This experience laid the groundwork for understanding the instrument and the various ways to make her sing.
After graduation from High School, Steve made his journey out west. That old Nashville guitar went everywhere he did. While attending college in Iowa, he got together with some friends and formed his first band – NITE SHIFT – (all members worked 3rd shift) They only played a few local gigs but got together regularly to jam out for fun. After earning his bachelor's degree, he was off to make money the way most did at that time – working for da man. That Nashville guitar still graced many campfires and backyard Bar-B-ques from Kansas to Wyoming, then Colorado back to Iowa.
In the late 1980's, Steve moved his family back to Indiana where he met a man with a nice music studio. This set the stage to take his craft to the next level. Within one year, HIGH PRESSURE AIR was formed and played 8 shows during the summer of 1990. Next, KLEVER GRETEL began it's tour-DE-force by playing the big stage at Blueberry Festival. After 4 years, some members had moved from the area, so, he formed TSUNAMI SALAMI'S. This rock cover band earned it's graces playing regionally in bars and on city park festival stages. After disbanding that project, he spent some time with GROOVE CITY STATION before starting his solo project-LIVE W/STEVIE G. Finding a nice niche in the acoustic marketplace, he performed regularly in tiki bars, wineries and supper clubs. Often times, special guests would join him on vocals, percussion, saxophone, bass or guitar. During that time, LEATHER MOOSE, 3 piece, was created using the all-acoustic format and enjoyed a nice 2 year regional stint playing smaller venues and supper clubs.
Rehearsing regularly at his home base in Goshen, IN inside a well equipped Studio G, you'll find that old Nashville alongside other guitars, notebooks filled with poetry, lyrics, chords and notation as he actively immerses his positive energetic being into realms of pure, soul crafted pleasure. WHAT'S NEXT?
CAUSE-2-REFLECT
Karrie Lynn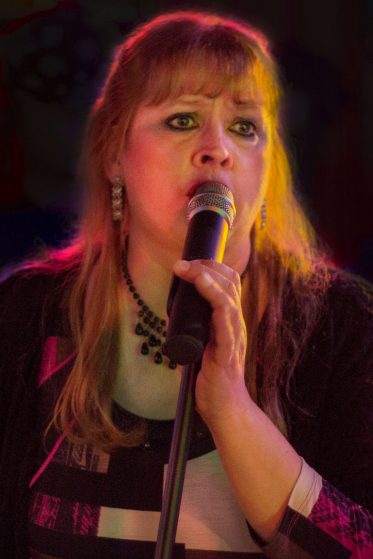 Karrie Lynn comes from a family of talented entertainers. Her music career started to take off when she was only seven years old! Karrie won a radio talent contest winning studio recording time, and airplay for a song that she had written called "The Candy Bar Song." Following that success she then performed regularly at a famous pizza parlor in California.
Karrie's mother took her out on the road touring which required her to be home schooled. Karrie performed at small spots which included performances with major artists such as Willie Nelson and Waylon Jennings.
Karrie, in her twenties took a break from the road to attend the Marquette School of Music in Michigan. She studied electronic music programming and production, and sound reinforcement.
After graduation Karrie returned to the road touring nationally and internationally as the opening act for major acts that included, The Ink Spots, Jerry Van Dyke, Jerry Reed, The Charlie Daniels Band, Aaron Tippin, Joe Diffie, Juice Newton, and Bryan Adams. Karrie retired from the road in 2006.
Past Credits Include:
Performing for Troops during Desert Shield / Desert Storm

Spokesperson for the Children's Burn Camp.

Band for "The Comedy Shop" TV Series

Performed for the late Illinois Congressman & former Presidential nominee, Phil Crane

Performances on TV Networks "TNN" and "CMT"

Demo work in Nashville for 3 different music labels

Played the role of Patsy Cline in the stage production "Always, Patsy Cline"

Performed National Anthem live (and flawlessly) at many events
Previous Bands Include:
Double Trouble


Hot Rocks




Whiskey Bent




The Bent Heads




The Karrie Lynn Show